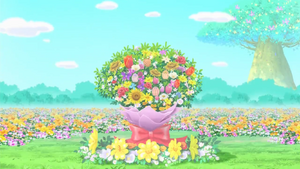 Flower Fairilu's Village (フラワーフェアリルの村 Furawā Feariru no Mura?) is a Fairilu residence located south of Little Fairilu. It is the homeland to Flower Fairilus. The area consists of many colorful flowers scattered around the field. In the middle of the field is a grassy patch where the house is located.
The house resembles a bouquet-held flowers, but structurally as a tree. It is supported by a pink rose-designed pillar decorated with a red ribbon. The rooms where the Flower Fairilus reside are placed on the tree with their respective doors. On top of the house is an open recreational garden balcony.
Known people
Ad blocker interference detected!
Wikia is a free-to-use site that makes money from advertising. We have a modified experience for viewers using ad blockers

Wikia is not accessible if you've made further modifications. Remove the custom ad blocker rule(s) and the page will load as expected.